If baking a cake for a homosexual is an endorsement of homosexuality, then voting for a pedophile is an endorsement of pedophilia ~ Chris LaVoie (formerly of The Stephanie Miller Show) via Twitter, 12/5/2017.
The "pervert purge" is a line from an article by Tina Dupuy, "I Believe Franken's Accusers Because He Groped Me, Too".
It happened at a Media Matters party during the first Obama inauguration. ... Then I saw Al Franken... I asked to get a picture with him. We posed for the shot. He immediately put his hand on my waist, grabbing a handful of flesh. I froze. Then he squeezed. At least twice. I'd been married for two years at the time; I don't let my husband touch me like that in public because I believe it diminishes me as a professional woman. Al Franken's familiarity was inappropriate and unwanted... he knew exactly what he was doing. (Excerpt from a 12/6/2017 Atlantic article).
As per the article subtitle "the Democratic Party needs to stand with women who have been harassed - and not defend the politicians who abused them". The "pervert purge" re politicians is DEMOCRATS ONLY. As Franken, who resigned today said, "I of all people am aware that there is some irony in the fact that I am leaving, while a man who has bragged on tape about his history of sexual assault sits in the Oval Office and a man who has repeatedly preyed on young girls campaigns for the Senate with the full support of his party".
Franken refers to the sexual predators Donald Trump and Roy Moore. Their Party warmly embraces them. Or initially decries their perverts, then walk back that sentiment and say it's "for the voters to decide". The trumpanzee Roy-Moore-defending blogger FreeThinke sez "I believe we are entering an age of neo-puritanism".
Now, for as long as I can remember, we've been in the midst of something called the "culture war". This is an argument put forward by Conservatives that says the sexual permissiveness and acceptance of sexual deviance by the Left has caused a decades long moral decay that will eventually destroy the family and thus civilization as we know it. "Secular-Progressives" are the enemy, as per the disgraced and fired sexual predator Bill O'Reilly 2006 treatise culture warrior.
So Democrats are, apparently (according to FreeThinke) both the Party of Secular Progressivism, as well as the Party of "puritanism", which is an "extreme strictness in moral or religious matters, often to excess". Secular Progressives being hostile to Christianity and traditional American values. I don't know about you, but these two ideologies seem to be diametrically opposed. How can one be a "neo-puritan" and a "secular progressive"?
Mr Thinke, I'd like to note, is a big believer in a paranoid and racist conspiracy theory known as Cultural Marxism that says the "decay" of Western Civilization (rock'n'roll, the Sixties counterculture, the civil rights movement, Affirmative Action, the anti-war movement, homosexuality and modern feminists aka feminazis) can be blamed on Jews, Communists and their useful idiots.
This Thinke guy is clearly a moron. At least his argument (that "far Left" is responsible for a Neo-Puritanical movement, while, at the same time, their Cultural Marxist agenda demands they destroy all that traditionalists like FT hold dear) is moronic. What FT holds dear being (apparently) that older men dating young teens be perfectly acceptable. That he acknowledges happened (I think). That Roy Moore groped any of these girls is an outright lie. "You can repeat allegations over and over again, but it doesn't make them true" Roy Moore spokeswoman Janet Porter told Anderson Cooper on 12/6/2017.
"How these gals came up with this, I don't know. They must have had some sweet dreams somewhere down the line" sez Roy Moore supporter Pastor Earl Wise. Trump's accusers are also all liars, which is how the Right is justifying standing by these scumbags. Trump and Moore claim their accusers are liars, while Al Franken has "admitted" what he's done. Because there was photographic proof. Although it was clearly intended as a "joke". Though an unfunny one (and he only mimed groping Tweeden).
I do, however, believe Tina Dupuy's account of what happened to her. The other women; I don't know them. Dupuy, I am familiar with from her appearances on The Stephanie Miller Show (SMS). So Franken apparently occasionally gropes women's asses. And, if you hug him and his hand is near your breast, he'll cup it. Or he did so at least once. Although I'm not convinced he tried to kiss a woman and, when she resisted, insisted it was his "right as an entertainer". Mostly because that is such an ridiculously absurd thing to say (if he said it).
But Franken had to go because enough of his fellow Congressional Dems decided he should resign. "Enough is enough" NY Democratic Senator Kirsten Gillibrand declared. That is what happened with Anthony Weiner (his House colleagues teamed up and forced him out). But, as it turned out, what Weiner did was a lot worse (got him a prison sentence). Franken's "crimes" obviously do not rise to the level of a Wiener. Weiner resigned and he absolutely should have. Even though I admit that I did not want to believe that he'd be stupid enough to be tweeting pics of his junk to women he'd never met.
I still think Franken is a good, though flawed, man. While I concede now that Weiner is a scumbag (that tipping point came for me after it was revealed that he was engaged in inappropriate tweeting after leaving the House). But they are both OUT. While Roy Moore will likely be sent to the Senate by the voters of Alabama. And the orange-anus-lipped admitted sexual assaulter in the White House supports Moore. And the RNC restored financial support for his campaign. "All you have to do is deny it and be a Republican and you get off scot free" a caller to the SMS pointed out.
So the Democrats are unilaterally disarming; purging our Party of "pervs", while the Republicans are embracing their pervs. The head Republican perv currently occupying the White House (though hopefully not for much longer).
Stephanie Miller & Caller discuss Al Franken resignation on the SMS Show, 12/7/2017.

Sue in Rockville: Sexual misconduct is bad, but the false equivalency of equating Tina Dupy (who I admire and respect) getting grabbed by her waist, versus pedophilia and sexual assault of children is a vast difference.

Stephanie Miller: I agree. And I love Tina. I said the same thing. As she described it [was a lesser "crime" than sexual assault].
The Fox Nooz sexual assaulting hypocrite Bill O'Reilly specifically calls out Al Franken in his "Culture Warrior" book. As a member of the "secular-progressive movement". These horrible people who are out to destroy our country are (as per Bill-o) "a minority left wing group of Americans" who have non-traditional ideals. They aren't "good Christians" (who elected an admitted sexual assaulter and who will likely send a sexual assaulter of teens to the Senate).
The "neo-puritanism" tactic, btw, has been a total flop. Or so I'd say if it was real. As opposed to the delusion of trumpy fools and tools like FreeThinke and Newt Gingrich. What with Democrats only succeeding in "eating their own". A phrase I've seen a number of gleeful trumpanzees use in regards to who has been taken out by the #meetoo movement thus far. Not that I believe that THE MAJORITY of those who've lost their jobs didn't deserve to lose them. John Conyers is retiring and that is a good thing, imo (he announced he would not seek re-election). Franken resigning is not so good, imo.
As per Mckay Coppins on the 12/7/2017 airing of MTP Daily, "I've talked to Democrats who... will say, I think he [Franken] had to be sacrificed; both for the sake this argument, which is important in this cultural tipping point we've reached, but also, frankly, there is a political calculus there. As much as Democrats don't want to talk about it now. They're looking at Roy Moore. They're looking at 2018...".
Image: panel from uber Trump supporting hypocrite cartoonist Ben Garrison. So this Garrison scumbag thinks Franken committed a "crime" for a pic in which his hands hover over Leeann Tweeden's boobs (a mimed groping), but Trump, who has been accused of rape and attempted rape 3 times, shouldn't have the cuffs slapped on him? This hypocrisy reminds me of when the trumpy Roy-Moore-supporting blogger Rusty Shackelford went after me for (initially) defending Anthony Weiner. The a-hole wrote "WD, you yourself seem a tad creepy... are you perhaps on some sort of list yourself?".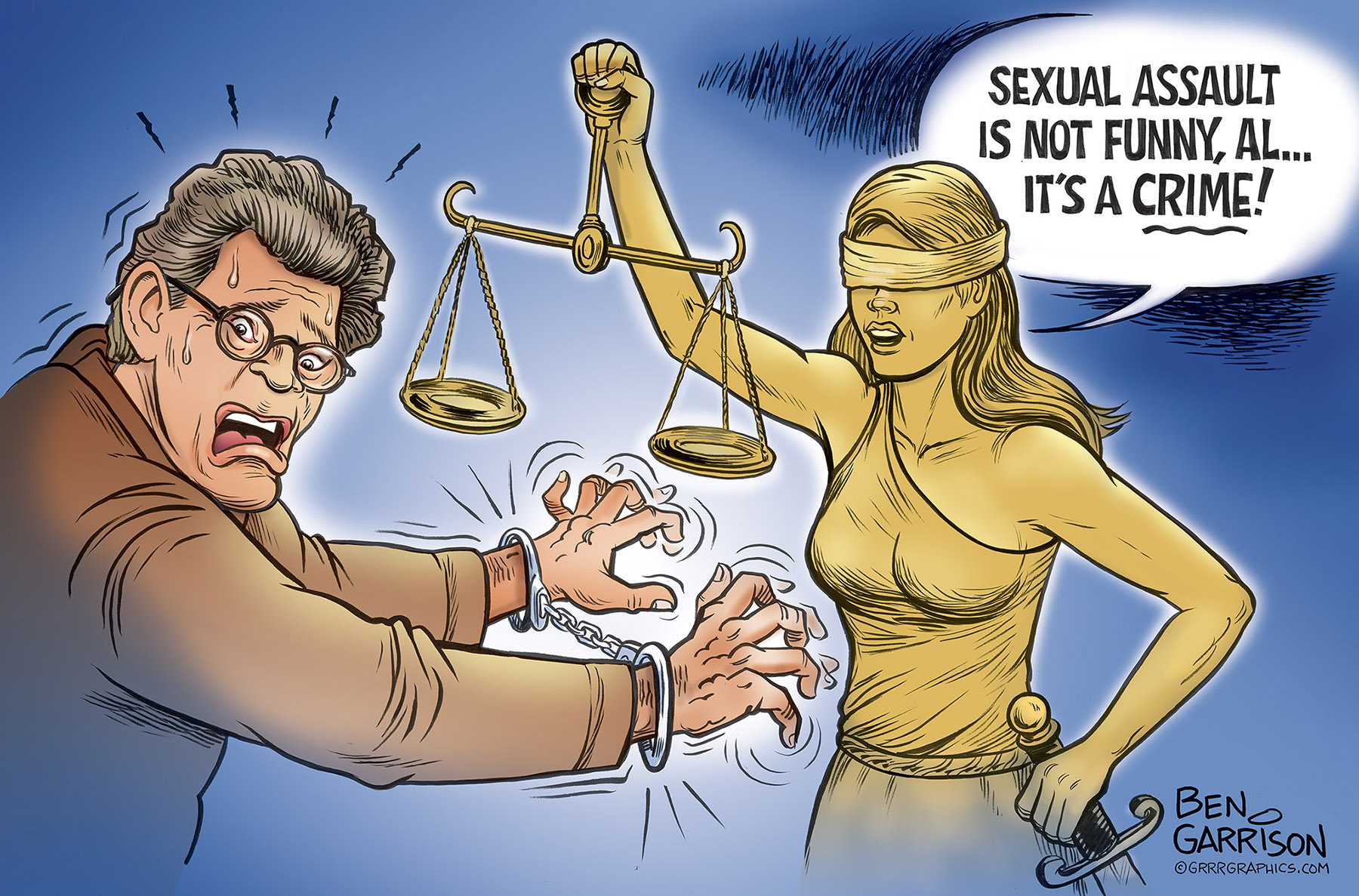 See Also: Roger and #MeeToo. 12/10/2017 Swash Zone post by Octopus.