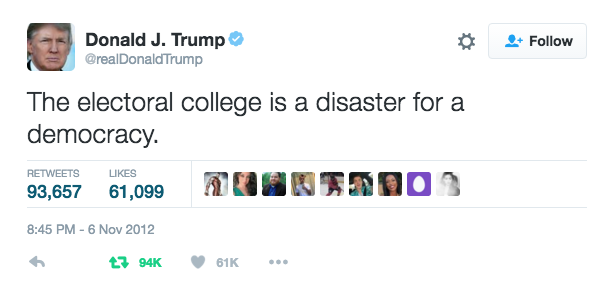 Perhaps, if he still feels the same way, he should urge his electors to vote for the popular vote winner, Hillary Clinton? (60,071,650 or 47% for DJT versus 60,467,245 or 48% for HRC).
I found this image (of the tweet) attached to a 10/10/2016 article from "The Wrap". Author Tim Molloy says Donald should work to get rid of the electoral college, "unless he's a giant hypocrite or something".
BTW, Donald thought it was going to be a "disaster" because (for awhile) it looked like Mittens might win the popular vote but lose the election. Which did not end up happening (or so The Wrap reports. Me, I don't recall that).
I read on a Conservative blog (WYD) that they're standing behind the electoral college because we're a Republic, not a Democracy Trump would have lost otherwise (although I just looked for the comment and could not find it. I am sure I read it, however).
However (as per the Wrap article, quoting the NYT), the electoral college is a compromise put in place by the Founders because "Southern delegates to the 1787 Constitutional Convention, most prominently James Madison of Virginia, were concerned that their constituents would be outnumbered by Northerners".
The Three-Fifths Compromise was a compromise reached between delegates from southern states and those from northern states during the 1787 United States Constitutional Convention. The debate was over whether, and if so, how, slaves would be counted when determining a state's total population for legislative representation and taxing purposes. The issue was important, as this population number would then be used to determine the number of seats that the state would have in the United States House of Representatives for the next ten years.
Given that it's been quite a while since slavery was abolished, maybe it's time we got rid of this vestige of slavery?
#abolishelectoralcollege #notmypresident #republicanssuck.